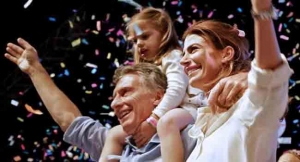 Conservative, Mauricio Macri has been confirmed as the winner of Argentina's presidential elections, after his ruling party opponent conceded defeat.
With almost all votes counted, Mr Macri led Daniel Scioli by 51.5 per cent to 48.5 per cent.
Mr Macri's victory is the first in more than a decade for Argentina's centre-right opposition and ends the 12-year rule of the Peronist Party.
In his address, he said "Today is a historic day. It's the changing of an era".
Sunday's victory completes a turnaround for Mr Macri, who is currently mayor of Buenos Aires, after he lost in the first round of voting to Mr Scioli.
But Mr Scioli, who is the governor of Buenos Aires province, did not command enough of a lead to win the vote outright, forcing a run-off – the first in the country's history.