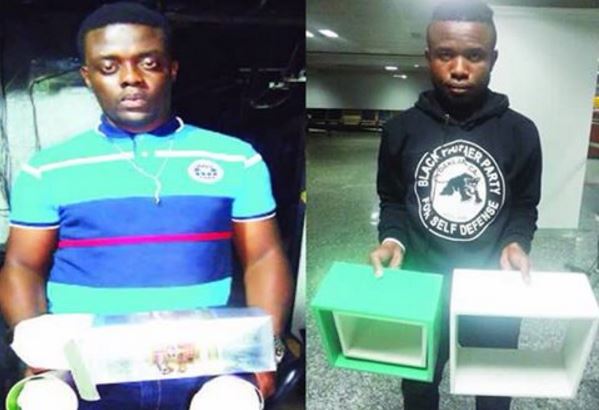 The

National Drug Law Enforcement Agency (NDLEA)

has arrested two Nigerians at

Murtala Muhammed International Airport (MMIA)

who smuggled N59 million worth of cocaine from Brazil.
The accused,
Michael Okwuma
and
Chidiebere Nwajagu,
smuggled the drugs in whiskey bottles and wooden frames,
Pulse NG
reports.
Okwuma confessed to the crime, stating:
"I live in Sao Paulo with my wife and child. I work in a supermarket but my salary is not sufficient to take care of my family. The man that gave me the drugs is like a father to me.
He usually renders me financial assistance. He was the one that bought my ticket and gave me the $3,000. I was very happy for the gesture. He also gave me a bag containing children's clothes and wooden frames to take to Nigeria. When I got to Lagos, NDLEA officers opened the bag and found the cocaine."
NDLEA Commander at the Airport,

Ahmadu Garba,

confirmed the incident stating:
"Okwuma was found in possession of 3.4kg of cocaine hidden inside wooden frames and Nwajagu Chidiebere was found with 3.2kg of cocaine hidden inside packs of Irish whiskey. The drug has an estimated street value of N59m.
Okwuma took off from Guarulhos International Airport Sao Paulo, Brazil on a South African Airways flight through Johannesburg to Lagos. Nwajagu Chidiebere also left Brazil on an Emirates flight through United Arab Emirates to Lagos. Both suspects will soon be charged to court."